---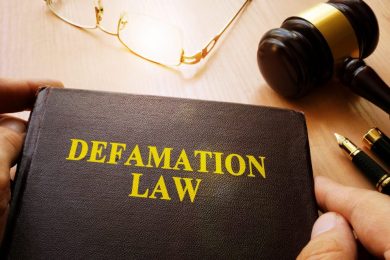 Defamation is an act of communicating & spreading a false rumour or statement in order to harm the reputation of an individual, organization, brand, or any religion. The laws against defamation are different around the globe; a majority of the countries term it as a serious civil offence with tough penalties & even sentencing, depending upon the severity of the case. An individual who is making defaming statement is in terms of law is labelled as a Defamer, Slanderer or Libeler. The word Libeler has the taken from the Latin word "Libellus," means small book or booklet.
| S.No | Company Name | Website |
| --- | --- | --- |
| 1 | Tom Howard Legal | http://www.tomhowardlegal.com.au/ |
| 2 | Defamation Lawyers Sydney | http://www.defamationlawyerssydney.com.au/ |
| 3 | Turner Freeman Lawyers | https://www.turnerfreeman.com.au/ |
| 4 | Turnbull Hill Lawyers | https://www.turnbullhill.com.au/ |
| 5 | O'Brien Solicitors | https://obriensolicitors.com.au/ |
Hire the right lawyer
Are you residing in Sydney and considering filing defamation against someone, who has made a false statement to harm your social reputation? Or do you want to get off the defamation charges in the court? You need to hire the right defamation attorney by your side, taking up your case to the court and get free of the troublesome situation. Choosing a defamation lawyer is baffling, with countless options in the market. However, you don't have to worry we've got you a list of top defamation lawyers in Sydney.
Best Defamation Lawyers in Sydney
1. Tom Howard Legal
Tom Howard holds immense expertise in the field of defamation and legal disputes, with over ten years of market experience. During his journey as an attorney, he has worked with top firms, before setting up his own Tom Howard Legal. Team Tom Howard Legal has a panel of experienced attorneys with in-depth knowledge dealing with defamation cases of higher complexities. By entrusting Tom to fight your defamation case, you are getting years of experience, knowledge, and most importantly a personalized strategy to win your legal battle.
2. Defamation Lawyers Sydney
The Defamation Lawyers Sydney is a reliable firm, having a pool of experts having heaps of experience prosecuting defamation claims in Sydney. Defamation claims are often complicated and baffling, but with this firm offering your legal device, the odds are on the higher side, you are going to win your claim-since the company has a robust market reputation with a lot of praises from its previous clients. The company covers a broad spectrum of legal advice solutions under the defamation category. These include defamation in the workplace, personal defamation, online defamation & professional defaming.
3. Turner Freeman Lawyers
Turner Freeman Lawyers is most the respected names going around in the Australian legal advice firms market. The core of this firm Turner Freeman is a qualified attorney with ample experience of successfully handling a variety of cases of Australia and in foreign courts. He started the law firm from scratch, which today has 18 offices across the Kangaroo nation with a team of 200 professionals, the Turner Freeman Lawyers company is in association with 21 firms across the globe.
4. Turnbull Hill Lawyers
Since its establishment in 1969, the Turnbull Hill Lawyers firm has been offering legal services to individuals, professionals & businesses. The company is known for successful prosecuting defamation claims in the Australian courts. Turnbull Hill Lawyers has a dedicated team of trained & experienced attorneys ensuring a personalized, friendly approach to every detailing of your case, to make sure you win the legal battle. The company is committed to its sole motto of delivering the highest standards of expert advice in line with your case and it's every detailing, it lawyers also work on finding the loopholes in the defamation laws to give you that much-needed edge over the defamer in the court.
5. O'Brien Solicitors
O'Brien Solicitors is a premium law firm offering a broad range of legal expertise for Criminal Defence, Civil Litigation for Police Misconduct and Defamation. This law firm has a pool of competent defamation lawyers providing highly professional legal advice. They can advise you on a wide range of legal matters, like conveyancing and family law, Wills, Probate & family inheritance claims, power of attorney, defamation and provides criminal lawyers services.
Defences against a Defamation Charge
Here's how you can refrain from finding guilty in court and defend yourself from the false charge of Defamation:
You can defend against a claim of defamation by proving that the libellous sentiment is true. If you'll prove the reality behind the implications you have got created, you have got with success defended your case. Please note: it's not enough to prove your words were true. You need to be ready to prove the negative sentiment behind the comment is true.
If you've spoken out at intervals a court that acts sort of a court you have got the absolute privilege to communication however you see fairly match, and may use this defence against a defamation case.
It is your right to speak honestly with another person without the threat of being sued for calumniatory remarks. The litigator will solely win a case for defamation against you during this state of affairs if he/she will with success show that your remarks were created in malice with unwell intent, and not in honest oral communication.
This defence to defamation applies to any sentiments expressed relating to a subject of public interest. The comment ought not to be affordable or true. You're able to specific your freedom of opinion on any public matters while not the threat of a defamation case.
If you're a newsvendor, bookseller, professional or net service supplier and you inadvertently publish calumnious material while not negligence, you're not liable.
Proving that the denigrating matter is unlikely to cause the litigant any hurt shows the grounds for defamation were trivial. A trivial grievance cannot be delayed in court.
To Wrap Up
Now that you've got an idea about defamation lawyers in Sydney, you are all set to solve the legal matter in court. As a matter of advice, before you contact anyone for the job of taking up your defamation lawsuit, it is highly recommended to have a personalized interview with the candidate to enquire their stance over the case and what they can do.
---
Trending Now