---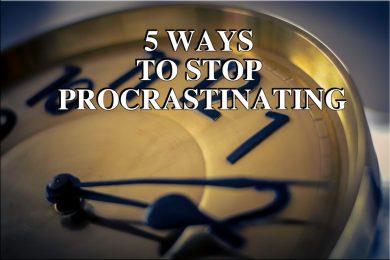 Procrastination in a layman's term is an act or art of delaying something, it can be a task or anything else. Though this comes habitually in many, a majority of the people embrace procrastination via their years of corporate experience. These people delay the commencement of any work or its finishing without worrying about the negative consequences it may have. No matter, how good you are at procrastinating, in the present neck-throat competitive world, this can be a roadblock to your survival & continual growth.
So, from the above statement, it is fair to say whether on the personal basis or as a manager procrastination is unarguable dangerous in 2018. From a company's point of view, letting procrastination run loose in your organization have numerous bad effects, and to a certain extinct can lower your odds of success in the market.  However, you can end the procrastinating at your workplace, if you deeply understand the causes and try to mend them from their originating roots. Today, in this post, we discuss what are the five best to stop procrastinating, read till the end and bring about a positive change in your office.
| S.No | Tips | Objective |
| --- | --- | --- |
| 1 | You Go To Admit | Be True To Yourself That You Have a Procrastinating Nature |
| 2 | Find That Big Reason | Why To Finish The Assignment on Time |
| 3 | Start Slow, Don't Rush | Take Small Steps For Gradual Improvement |
| 4 | Have Your Priorities | Create a Priority List & Stick To It |
| 5 | Reward Yourself | Congratulate Yourself For Finishing the Task on Time |
5 Quick Ways To Prevent Procrastinating Of Work
1.

You Go To Admit
First of all, you have to admit you suffering from a corporate disease known as  Procrastination, because then only you will able to look for solutions and tweak your daily habits to overcoming procastination problem for prospering future ahead.
2.

Find That Big Reason
Find The Reason why your its is significant to finish the work within a given deadline. By doing a quick mind interoception, you will be able to discover the amazing benefits of getting the work done on time, both on the individual and company front. Finishing the assignments of time helps to build a positive image in front of your seniors, which further plays a central role in your career growth. So, in a nutshell, it is not that you don't want to complete the tasks on time, but you are unable to find one big enough reason to trigger your brain to send the right message throughout the body.
3.

Start Slow, Don't Rush



There's a popular reason why a majority of the people give up their weight loss regimen, they think it easy to lose 10 pounds in a week and end up getting frustrated from it. Similarly, for your mission of ending your relationship with work procrastination, go slow, start with lowering your task completion time with 10 minutes, then further to one hour, when you get good at it; over a course of time, you speed will naturally improve. The best way to stop procrastination is the segmentation of any given task into further subdivisions, and allot a specific time frame to each division, this way you will be able to meet every deadline with utter ease. As a rule of thumb, don't focus on getting the entire project done at once, gradually grow and finish the work on time. This is why the reason why corporate experts prepare a rough drafting before beginning with the project.
4.

Have Your Priorities
Having priorities is a fundamental means to prevent procrastination at the workplace, be honest & clear with what is important. If someone comes to you to get a particular work done, be polite and say at present I done have enough time, otherwise, your present work will be getting delayed. Not only the out of the box task causes delays, but also diverts the mindset, which is hard to regain in order to get in line with the project. You have to explain to your manager the graph of need versus want, to clearly tell your work priorities.
5.

Reward Yourself
The self-reward program is the perfect way to speed up your work accomplishment speed. Set a target and achieve that, then offer yourself a gift, this can be anything, like a half an break.
In the end, all the above tips are effective in fixing your  Procrastinating from its roots, but its implementation is required to achieve results from them. You can also talk to your known in the corporate sector for modern on how to not procrastinate.
---
Trending Now